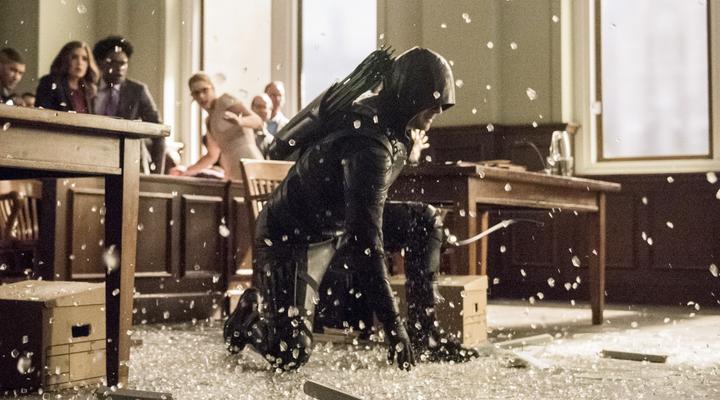 Suppose you were a lawyer. (Don't worry, this is just a thought experiment. I wouldn't wish that fate on my worst enemy; only on myself.) Suppose also, that you told your significant other you wouldn't get married until you had established yourself as a lawyer. Suppose further that you couldn't establish yourself as a lawyer, because you kept losing all your trials. And, finally, suppose you continued losing trials until your significant other became a super hero and secretly helped you win them. What would you call yourself?
Self-centered would be a good start. Then you could move on to lucky your significant other was so understanding. Calling yourself a bad lawyer goes without saying, but you should probably say it, anyway. Finally, you could call yourself Jean Loring, because that was her character arc in 1961, when she was introduced in the comics.
Jean's not like that in the comics anymore, but let's not go there. (Aw, c'mon, if we go there, Amazon gives us a cut! –Ed.) Instead let's go to the world of the TV series Arrow, where Jean Loring is just a bad lawyer and hasn't become an insane murderer. Yet.
I've spent two columns so far writing about the Arrow episode "Docket No. 11-19-41-73." You know, the one where Oliver (Green Arrow) Queen was on trial for violating Star City's anti-vigilante law and some assorted homicides and assaults. So far, I've only covered the prosecution's case. Now, to have Jean paraphrase that Get Smart episode when Max was on trial for murder, "For the past two columns, I have sat idly by while my worthy opponent, the prosecuting attorney has stood up here and made a complete jackass out of herself. Now it's my turn."
Two state's witnesses – John Diggle and Dinah Lance, both of whom are secretly costumed heroes who work with Ollie on Team Arrow – lied under oath. They testified that Ollie was not Green Arrow. If Jean were to get information that Ollie was the Green Arrow, she would be ethically required to report their perjury to the court. Moreover, Jean would also not be able to question Ollie or any other witness, if she believed they would lie under oath and testify he wasn't Green Arrow. That would be suborning perjury.
So the last thing Jean would want to do is ask Ollie, "Are you the Green Arrow?"Naturally, it was the first thing Jean did. Did it before she even put on her first witness. And Ollie told her he was. Because he's the hero, he wouldn't lie. He wasn't under oath yet.
Once Jean knew Ollie was Green Arrow, she suggested their best tactic was jury nullification; that is admit to the jury that Ollie was Green Arrow but argue that the jury should still find him not guilty, because of all the good he had done as the Green Arrow. Basically, you asking the jury to nullify the law by ignoring it and returning a verdict that is contrary to the evidence and the law.
There were a few minor problems with Jean's jury nullification plan. First, lawyers aren't supposed to do it. You can't ask the juries to ignore the law, you're supposed to ask them to obey it. Second, because jury nullification is not permitted, when judges see lawyers engaging in jury nullification, they put a stop to it. Third, Judge MacGarvey, the judge presiding over Ollie's trial, was corrupt and under the control of Ricardo Diaz, the crime boss who ruled Star City and who wanted Ollie to be convicted and rot in prison.
Did I say minor problems? A bar serving under-aged drinkers has minor problems. This plan had major problems; more than the 4077th.
Jean was trying a case in front of a judge she suspected had a vested interest in making sure Ollie was convicted and her plan was to hope he'd allow her to assert an improper defense he had every reason – both ethical and financial – to stop. It's a good thing the 2017 Cleveland Browns didn't fire their head coach after that 0-16 season, because with those strategy skills, the Browns would have snatched Jean up in a second.
Ollie rejected jury nullification, so Jean went with a more conventional defense. Her first witness was Felicity Smoak; Ollie's wife and Team Arrow's resident computer hacker. You know one of those characters who's constantly typing on a computer and are contractually obligated to say,"Hack into the Pentagon's computer. They've got the most sophisticated security in the—"
"I'm in."
Felicity testified as a computer expert that a photo of Ollie as the Green Arrow was a fake that had been digitally altered. Which it was. So Felicity was telling the truth. Had Jean stopped there, everything would have been fine.
She…. didn't stop there.
The code of lawyer ethics has a protocol for lawyers who believe a witness is going to commit perjury. Ethically, the lawyer can't ask the witness questions and elicit lies. That's suborning perjury. But ethically, the lawyer can't refuse to call witnesses the defendant wants called, either. It's the client's defense. Defense counsel is the defendant's advocate and is supposed to do what the client wants. So when the defendant wants the lawyer to call a witness who will commit perjury, the lawyer is supposed to call the witness and then just say something like, "Tell us what happened in your own words," and let the witness give a narrative account That way, the witness testifies but without the lawyer asking any questions that elicit any lies.
Yes, that solution splits more hairs than Floyd the Barber shortly before the big Mayberry Founder's Day Parade. But it's the compromise the profession set up to cover the problem.
Jean, being a bad lawyer, didn't do that either. She asked Felicity, is Oliver Queen the Green Arrow and Felicity answered no. Jean was pig-headed and did things her way. Which raises the question, was that suborned perjury or stubborn perjury?
Jean compounded the subornation with her next witness, Oliver Queen. She asked him whether he was the Green Arrow knowing he'd say no under oath and he played along by saying no. So far we've had four witnesses who committed perjury, a defense attorney who openly suborns perjury, and a prosecutor who didn't interview any of her witnesses before calling them. Could this trial get any more preposterous? Of course it could.
Right after Ollie's testimony, the episode had an act break. It needed a hook to keep the audience from changing channels while the network hawked some new drugs whose side effects always seem to be lymphoma, heart failure, kidney infection, death, loss of life, and diarrhea.
So just before that act break, the episode decided to insult our intelligence by having a surprise witness drop into the courtroom through the courtroom's shattering skylight. A surprise witness wearing a Green Arrow costume.
And what was this surprise witness's testimony? Wouldn't you like to know?
Actually, I presume you would like to know. So I'll tell you. But I'll tell you next time. Just as the show needed an act-break hook, I need a this-column's-too-long-and-needs-to-break-until-next-column hook. And as hooks go, a mysterious, skylight-shattering surprise witness works better than a pirate's prosthetic.