The Law Is A Ass #443: Daredevil Has To Prove He's The Devil You Know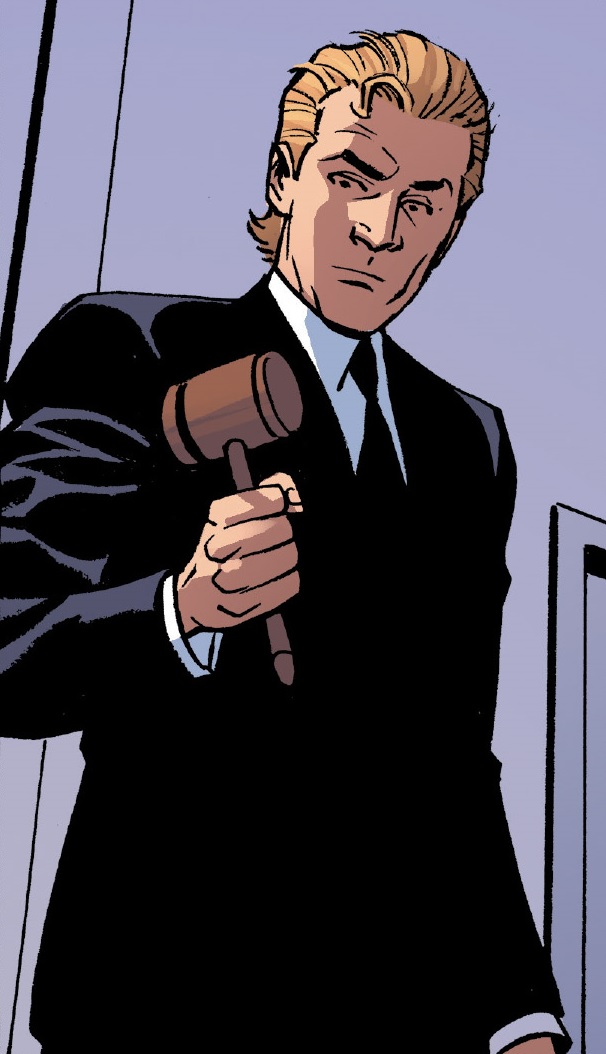 How do you prove that you're you?
Testimonials from family and friends. DNA tests. Those embarrassing Facebook photos that no one but you would ever post.
But how do you prove you're you, if nobody other than you knows who you are?
That was the problem facing Daredevil in Daredevil v 5 #22. He had convinced a judge to let him testify in court against one Simon (Slug) Slugansky while still wearing his mask and without revealing his true identity. Okay, he hadn't convinced the judge, Daredevil's unrevealed secret identity of assistant district attorney Matt Murdock convinced the judge by way of a legal motion. How Matt did that, I don't know, as I laid out in my last column. But he did. However, now, in order to testify, Daredevil had to convince the court that he really was Daredevil under that bright red costume, because, as the judge put it, "Anyone can put on a suit, Mr. Devil."
Daredevil showed off his super senses to prove he was Daredevil. First he eavesdropped on the phone conversation that a woman was having in the lobby outside of the courtroom. Slug's defense attorney, Mr. Baden, countered that display off hearing by suggesting that the woman could have been planted.
Daredevil then told Baden what Baden had eaten for lunch by smelling the traces of the spinach salad, strawberries, almonds, bleu cheese, vinaigrette dressing, and a diet Coke that still clung to Baden. Baden pointed out that he ate lunch in a public restaurant not far from the court house so Daredevil could have had someone in the restaurant reporting back on what Baden ate.
They had reached an impasse, a Mexican stand-off, an anything Daredevil could do, Baden could undo better. What proof could Daredevil offer as to his identity that Baden couldn't counter?
Turns out none. Turns out Daredevil didn't need to offer any proof because fate stepped in in the form of the defendant, Slug, doing about the stupidest thing he could do.
No, he didn't say, "Hey, that's Daredevil, I recognize him from when he arrested me," so maybe it was the second stupidest thing he could have done. Slug had the rest of his criminal organization shoot their way into the courtroom to break Slug out.
For those of you who don't have a score card, the rest of Slug's gang consisted of Ammo, Black Powder, Tracer, and Steeljacket. And because they couldn't call themselves The Gang Who Couldn't Shoot Straight, even though they couldn't, Slug's gang, with code names straight off the NRA impulse buy shelves, called themselves The Clip.
The Clip burst into the courtroom on page 13. Daredevil defeated them in open court in front of judge, jury, lawyers, bailiffs, and spectators by page 16, and that was with time off for Slug to spend a few panels grabbing the bailiff's gun and threatening to kill his lawyer, because at $1,500 an hour, Baden charged too much.
After The Clip's little melee had turned into their malaise, court reconvened. When the judge asked Baden, whose life had just been saved twice by Daredevil, whether he still doubted that Daredevil was Daredevil, picked up the judge's gavel, gave it back to the judge, and said, "I'm good." Then the judge let Daredevil, mask and all, testify and Slug was convicted.
Yay! Happy ending.
Except to those of us who know how the law really works. We know that the trial of Simon Slugansky wouldn't have gone forward after Slug and his gang slugged it out in the courtroom.
Four people with high-powered guns started shooting up the courtroom, which put the judge and the jury at risk of their lives. Daredevil saved them all by being a good guy without a gun. And Slug's defense attorney basically resigned from the case by action if not by actual words, because his client tried to shoot him. Do you think the trial could really have gone forward at this point as if nothing had happened?
No.
At this point, the judge and jury, whose lives had been saved by Daredevil would have been hopelessly compromised. They would have had an unquestionable bias in favor of Daredevil, the man who just saved their lives, and against Simon, the man who just tried to have them killed. In addition, Slug would have had an attorney who could not have represented Slug zealously, given that Slug just tried to fire him by firearm.
No, what would have happened is that the judge, realizing that he, the jury, and defense counsel were all hopelessly biased against Slug, would have declared a mistrial. Even if defense counsel, who no longer gave a slugged nickle for his client, didn't move for the mistrial, the judge would have ordered one on his own motion.
It was either that or watch a court of appeals reverse Slug's conviction faster than if they were running a trick play in the Rose Bowl.
Of course it wasn't all roses for Matt Murdock. While he and his team were celebrating their win, Matt's boss, Manhattan District Attorney Ben Hochberg, tried to rein in their party by raining on their parade. Hochberg pointed out that someone will appeal the case, all the way up to the Supreme Court if necessary, because of, "the Fourth Amendment implications."
That had to be troubling for Matt. No not that someone would appeal his bold new legal precedent; Matt's too good an attorney not to have expected that. No what had to be troubling for Matt was that his boss, the district attorney for Manhattan, didn't know the difference between a Fourth Amendment search and seizure case and a Sixth Amendment right of cross-examination case.
A lawyer that stupid is likely to do something even more stupid at the next turn. Something like…
Like what we'll be talking about when next our paths cross.