There's a return of an old pestilence upon the comics landscape. Brian Hibbs of Comix Experience is sounding the warning alarms. Reprinted with permission. —CM
Once again there is a speculator-driven comic coming out this week that forces us to limit sales or change our natural way of doing business.
This week it is YEAR OF THE VILLAIN: HELL ARISEN #3.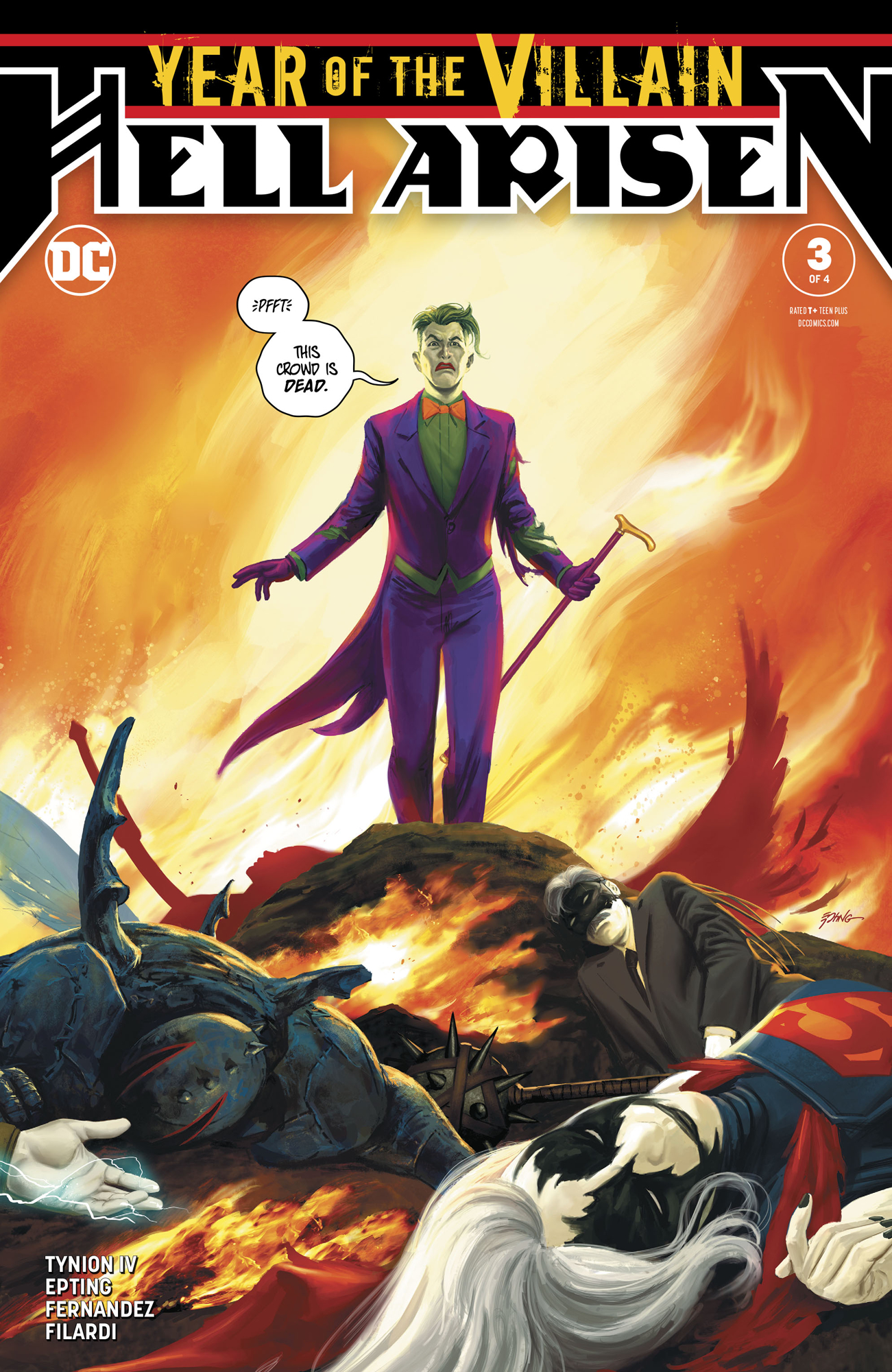 Here's the thing: unlike last week's BATMAN, where there were a good number of potential people-who-bought-earlier-issues-from-the-rack, my point-of-sale system shows me that virtually none of you bought copies of #1 or #2 from the shelf — this comic was a massive flop. And so, really, the only reason for most of the phone calls and such we're getting is because we've got a bunch of greedy people trying to buy it from us for $4, and flip it for $40+.
I can't countenance this as a retailer (seriously folks, we're not suckers), and so I have to try to deflect you all. This week our plan is this: if you're not already subbed for YOTV:HA (and you aren't), THEN IN ORDER TO BUY #3, YOU HAVE TO BUY #1 & 2 ALONG WITH IT. We're only interested in facilitating the reading of a story.
Let me go one step further: I've owned a comic book store since 1989, and I've worked comics retail since like '85. I've heard this same record many many times before: In point of fact I've personally watched the comic book industry ALMOST BE DESTROYED MULTIPLE TIMES by speculators and greed — through the B&W boom, through the 90s spec crisis, and it's happening again right now. People trying to "flip" comics are making it so PEOPLE WHO ONLY WANT TO READ THEM CAN'T DO SO.
It's not right; and it's certainly nothing I'm willing to participate in.
Please listen: if you are buying comics with the goal of flipping them for a greater price you are HURTING the comics medium, you are HURTING small businesses, you are HURTING creators and publishers….. and, more importantly, I DON'T WANT YOUR MONEY TO DO SO.
Seriously: Fuck the fuck off. Go shop somewhere else. You don't like comics, you're not good for comics, and your money is worthless to me because what I, and every other, comic book retailer needs are ONGOING READERS. Your spending $4 today is dwarfed by a regular stable purchaser spending that every single month. On the non-returnable comics that form the backbone of the Direct Market your ONE TIME purchase is genuinely HURTING comics and comics stores who then have a harder time figuring out how to serve their regulars. Your purchases are WEAKENING the market, and so you are not welcome in our doors.
When I opened in 1989, there were 24 comic book stores in San Francisco, and now there are (barely) 8 — that two-thirds went out of business largely because of these bullshit speculator games that hollowed out the actual readers market, despite the local economy BOOMING beyond all rationality in that time.
You suck. You destroy the thing you claim that you value. And Comix Experience simply won't stand for it (nor have we, consistently, for the last thirty years!)
And more than that…. honestly? You're an idiot. I sell comics for a living, and I watch these variant flash-in-the-pans and they NEVER (ever) hold their value. There are a small cartel of folks who are using public-facing apps, and trading back and forth between puppet accounts to MAKE IT LOOK like there's demand for these comics featuring "Punchline", but as a guy who has been selling this stuff for decades: this moment is 100% false and manufactured. We've yet to have a SINGLE reader show the slightest amount of non-fiduciary interest in the character, and any comic that "every knows is going to be worth money" never ever is a month or three after it drops.
Maybe "Punchline" will be an interesting character, with an involving storyline that leads to dynamic story-telling and tales for the ages. I sincerely hope so. But speculeechs driving up the price before anyone has ever read a single page of content is a massive red flag that "Punchline" will end up no better than "The Joker's Daughter" (which was also white hot for about 45 days in 2013, and now no one would give you a dime for her eponymous comic)
Don't be a sucker. Don't help destroy what is left of the periodical comics market (idiot!) And don't think you're welcome in our stores. We've been there, we've done that, and we've had it proven again and again and again that you are the stone cold enemy of the Medium of comics.
Right now, you have a LOT of people trying to sucker and shake you down and get you to buy their comics because so many of them see a Hollywood Play, and are willing to use speculators and the worst excesses of the "Collector's Market" to try and leverage that play. They too, are the enemy. Don't fall for it! Don't support them!
If you have any issue with any of this, take it up directly with me. I can always be reached at brian@comixexperience.com. Leave my staff out of it, please — this is a top-down statement.
-B
Brian Hibbs
Head Cheese, Comix Experience
San Francisco