The Law Is A Ass #450: One Can Only Marvel At All The Ms. Takes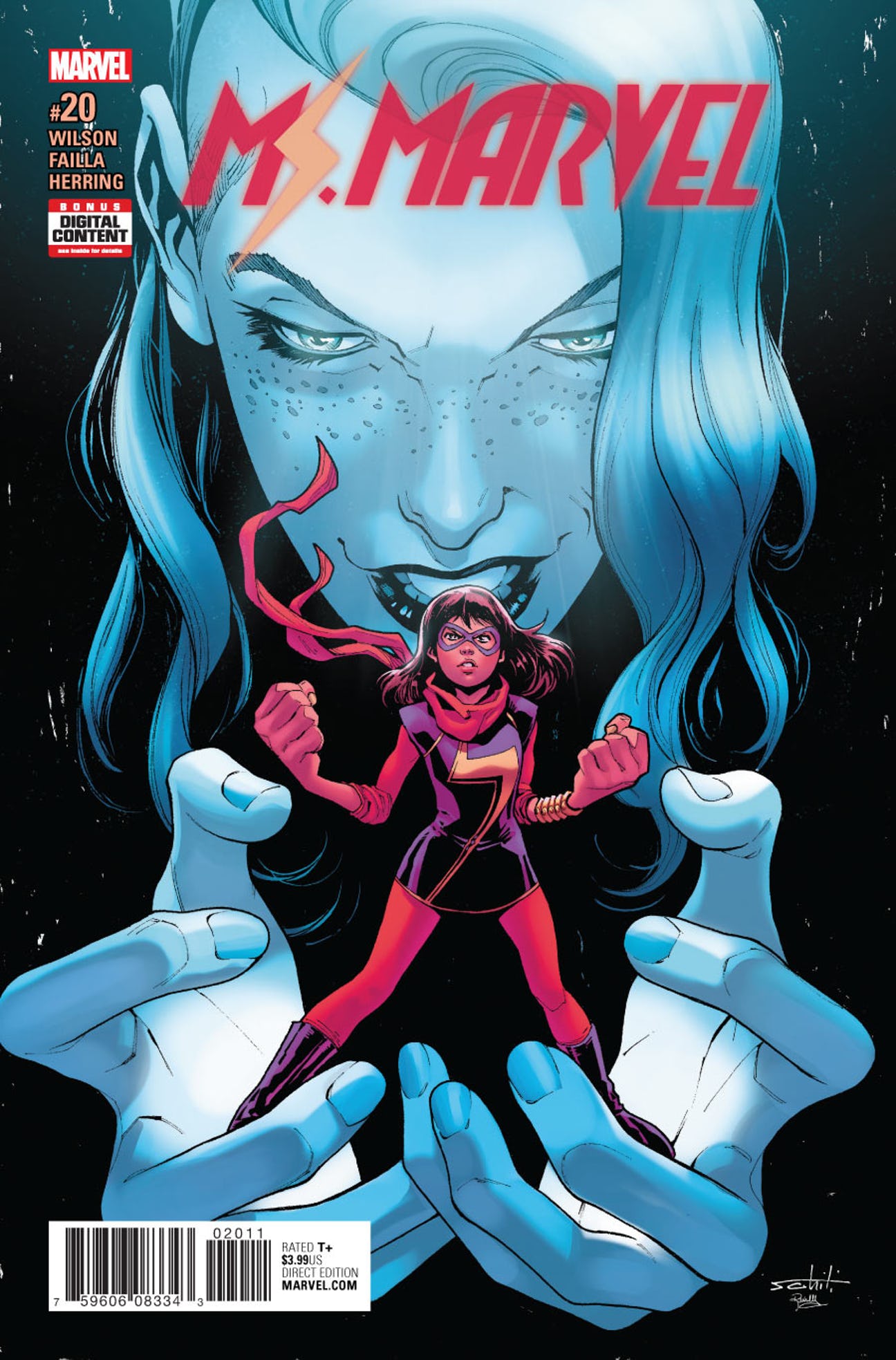 I don't care what you say, 2020 could have been worse. Want proof? Marvel's Civil War II didn't come out in 2020, now did it?
Ah, Civil War II, the gift that kept on giving, even after we had taken it to the return window. It continued to haunt us in Ms. Marvel Vol 4 #20, after we thought we had put it out of our misery. Bear with me, to explain how, requires more back story than the Illustrated Man's dorsal region.
Kamala Khan wasn't always Ms. Marvel. Her latent Inhuman gene activated after she was exposed to the Terrigen Mist during Terrigenesis. That's when she got powers and became protector of Jersey City. I realize that if you're not up on Marvel continuity, the preceding sentences make no sense. I am up on Marvel continuity, after a fashion, and they don't make complete sense to me. But explaining it further would make this column longer than Stephen King's The Stand; abridged and unabridged versions. Combined. So, like a Lee fake fingernail, we press on.
Some months later, Kamala's brother, Aamir Khan, was exposed to something. It wasn't Terrigen, but it still gave Aamir powers. How it gave Aamir powers isn't important, not unless we want to add Stephen King's Under the Dome to this column's word count. What is important is that Aamir got his powers when he was an adult.
During the events of Civil War II, Aamir openly displayed his super powers. Then, after Charles Worthy, a front man for Hydra, became Mayor of Jersey City, he started a policy of taking the city back from the "activist super heroes" who have disrupted Jersey City. To accomplish this, Worthy issued an executive order requiring all super heroes in Jersey City to register.
Aamir didn't register. He was arrested pursuant to the executive order and held in a detention center, where a police officer reminded Aamir that he was an emigree who became a naturalized citizen when he was eight. The officer advised Aamir that "Under the new law, failing to disclose super-powers could potentially count as immigration fraud. If you obtained your citizenship under false pretenses, this could be grounds for revocation." Meaning, Jersey City would revoke Aamir's citizenship and deport him.
Jersey City may believe it's like some little train engine going up a big hill, but it isn't. Not only do I not think it can do this; I know it can't.
Let's deal with the ridiculous assumption, that if Aamir didn't disclose powers he didn't have at the time he became a naturalized citizen, he obtained his citizenship under false pretenses. Aamir didn't have his powers when he was naturalized, he got them years later. To say he concealed something he didn't have is like saying I – all 5 feet 7 inches of me – concealed my two-handed, behind-the-back slam dunk. Go ahead, try to conceal something you don't have. That's a trick that would fool Penn & Teller.
Aamir obtained nothing under false pretenses. The only false thing in the story is Mayor Worthy's knowledge of the law. Especially if Worthy thought he could unconstitutionally apply an executive order which he issued after Aamir was naturalized to revoke Aamir's citizenship. Don't believe me? Look up the Ex Post Facto clause. Tell you what, I'll save you a little research. You'll find it in Article I §§ 9 and 10 of the United States Constitution. Next I'll save you some time and tell you ex post facto is not a discontinued breakfast cereal but Latin for after the fact.
The Ex Post Facto clause says that neither the federal government (§ 9) nor a state (§ 10) can pass a law that punishes behavior that occurred before the law was passed. So Jersey City can't revoke someone's citizenship for not following an executive order that didn't exist at the time that person became a citizen.
I know the Constitution doesn't mention executive orders in the Ex Post Facto clause. But in ex post facto analysis there's no real difference between an executive order and a law, so I don't think that even the strictest textualist would deny relief on that pretext.
But let's say that Jersey City could get past the arguments that Mayor Worthy's executive order violated the Ex Post Facto clause– it can't, but I have a few more words to go before I hit my word count quota, so I'll use them up with another hypothetical – it still couldn't use the executive order to argue that Aamir obtained his citizenship through fraud.
Remember how we proved Aamir didn't conceal his super powers when he became a citizen, because he didn't have any super powers when he became a citizen? (Yes, you do. Time may seem to pass more slowly during a pandemic lock down, but five paragraphs wasn't that long ago.) That argument also negatives Jersey City's fraud claim.
Fraud requires a specific intent to deceive to gain a benefit. That's the culpable mental state of the crime. When Aamir was naturalized, he lacked an intent to deceive by concealing his super powers, because he lacked super powers.
Finally, does Mayor Worthy think he's going to be able to use that fraud argument to expatriate Aamir and then deport him? If so, he's dumber than a bag of door knobs. And not the good kind, we're talking the kind that come out in your hand so you can't open the door.
I refer you back to the Constitution. Specifically Article 1 , § 8, clause 4 which gives the United States Congress the power to establish the rules of naturalization. Congress. You know, five hundred thirty-five men and women in Washington D.C. Not one mayor in central New Jersey. Give the mayor of Jersey City immigration authority? Hell, Congress wouldn't even do that for Snooki.
So what does this mean? It means Jersey City wronged Mr. Khan bigly. We're talking serious constitutional violations here, not Aamir inconvenience.