Tom Spurgeon: 1969-2019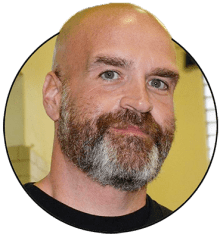 Tom Spurgeon, the longtime comics industry journalist, historian, editor and author passed away at the age of 50 today, according to a Facebook post by his brother Whit Spurgeon.
Tom was best known for his comics industry news website The Comics Reporter since 2004, and for his five-year stint as Managing Editor and then Executive Editor of The Comics Journal from 1994 to 1999.  The Comics Reporter won the Eisner Award for Best Comics-Related Periodical/Journalism in 2010, 2012, and 2013.
The last time most of us saw Tom was at Baltimore Comic Con just a month ago. We always thought there would be more time to talk shop, discuss web site migration plans, and to gush about the medium we loved. And now there isn't.
Karen Green has announced that the Global Webcomics Web Archive members have agreed that, despite it not strictly meeting their criteria, and barring any objections from stakeholders, The Comics Reporter will be archived. She says it's "Way too important a site to risk losing!" and we agree wholeheartedly.
We'll all miss you, Tom.