Day 4 of #NaGraNoWriMo! Last time, I told you that a full script for comics can look very deceptively like somethings it should never be… and those are plays: both traditional stage plays and screenplays.
Why? Because they simply don't describe the same things.
The single most important difference between a play script and a comic book script is that a comic story is made up of single frozen moments that express something, most often either an action or an emotion.
Plays don't do that. Plays describe ongoing action and motion, and comics are not built to do that, as they're made out of single images. You're not writing in documentary, you're writing in newspaper photographs.
Take one of the most famous photographs of all time: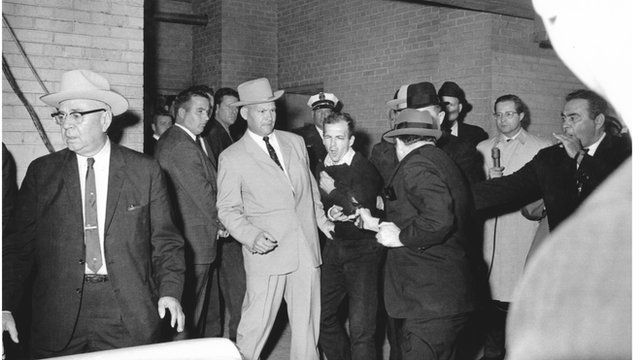 You can't tell if someone just put on his hat. You can't even tell if someone is blinking. What you can tell is that each person is doing a specific action, some of which are in reaction to other actions.
That's the best you can hope for– that each person in the shot gets an action, and that the image expresses something.
David Mack, author of the WWII dark fantasy thriller The Midnight Front, wrote about this for us previously:
When describing a scene in a film/TV script, one can describe continuous actions with great economy. For instance, a line of action in a screenplay might read, "Porter gets up from the table, picks up the phone, and uses it to smash in Resnick's skull." The reason this direction works in a screenplay is that it's a blueprint for a motion picture—emphasis on motion. That one sentence might end up being depicted with a half-dozen different shots edited together in a film, but in the script, one needs to describe only the continuous series of actions.

Comic-book scripts are not blueprints of moving action but instructions from which an artist will render sequences of static images that imply movement by breaking down an action into decisive images across any number of panels.
What that means for the story you're telling is the one thing you may have hoped you'd never have to deal with as a writer… math.