Box Office Democracy: The Fate of the Furious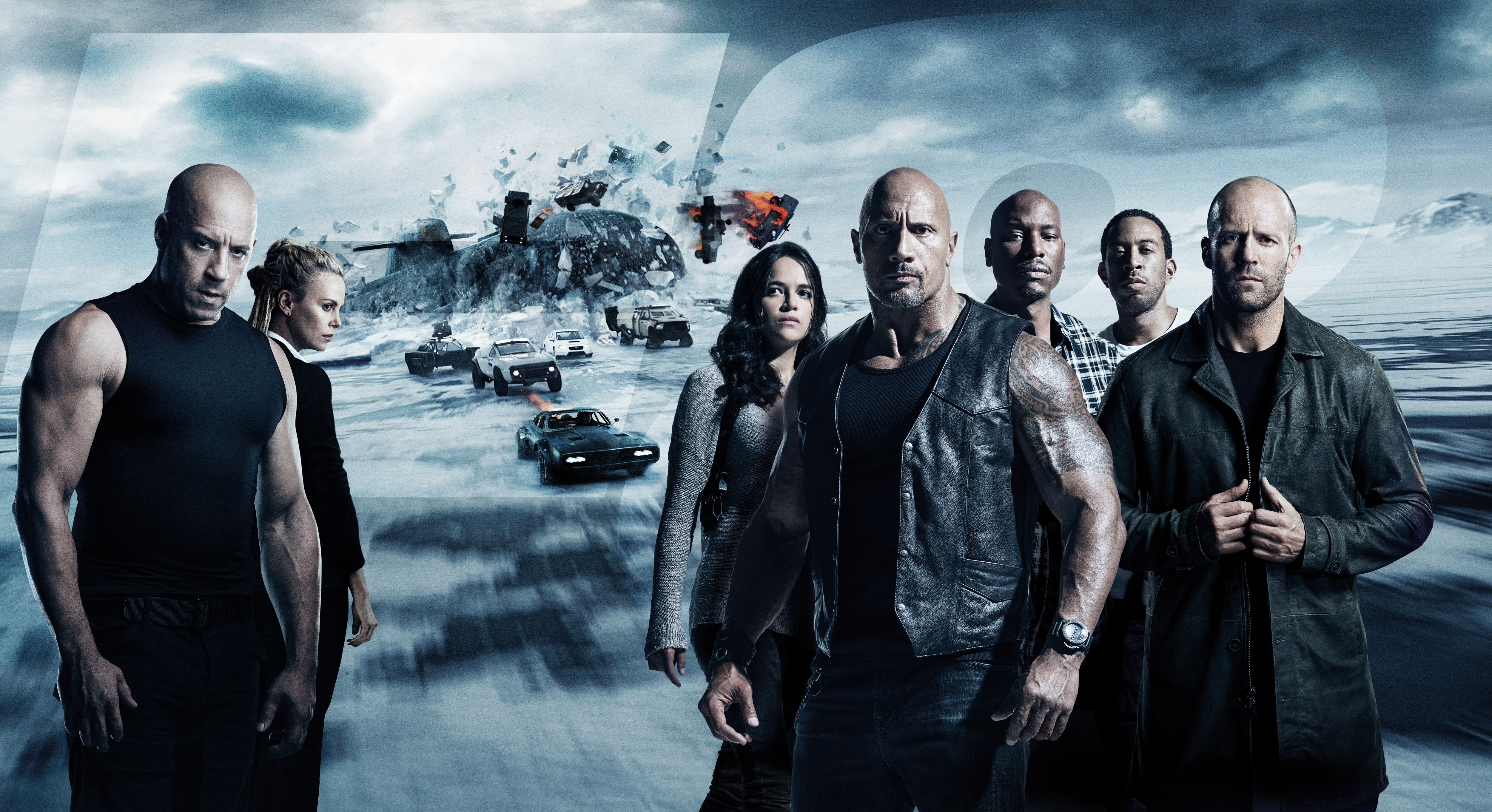 I don't believe in objective reviews of media.  I think the personal subjectivity of the reviewer is impossible to remove and, honestly, that it would be boring if you could.  That said, I am not capable of being remotely objective when it comes to the Fast & Furious franchise.  I find the formula they have stumbled upon since Fast Five to be unbelievably charming and I can't separate the movie from the joy they've brought in to my life and the friendships these movies have enriched.  If this bothers you, I can give you the low down on how I feel about this movie and you can be on your way: if you've liked any of the last three entries in the franchise you'll like this one, and if you didn't this will not change your mind.  If my F&F obsession does not bother you, come on and let me geek out a little bit.
If you've seen the trailer you know the hook for The Fate of the Furious: Dominic Toretto (Vin Diesel) has turned against his crew, his family, and is now working for the super hacker Cipher (Charlize Theron).  That's sort of the whole film.  Cipher has a nefarious plan but it's very nebulous.  She wants nuclear weapons and she wants to launch one, but I'm not sure what she wants to do after that.  It all feels hastily thrown together so we can get the shots of Dom in his evil black jumpsuit driving a more evil-looking black Challenger.  That's all fine, the plot is only there to hold top the action sequences— but this feels less substantial than usual.  There's also the idea that Cipher would blackmail someone who has pulled off some of the zaniest heists and car chases in history but only uses him as a glorified bag man that rubbed me the wrong way— but again it's all about big action sequences and meaningful glances, so whatever.
There are two signature action pieces in The Fate of the Furious and they're the most important thing to judge the movie by.  There's a big second act set piece in New York where Cipher hacks a bunch of cars and controls them remotely as a big swarm to take out a motorcade.  This is a visually interesting bit but it might finally be the moment where a Fast & Furious movie got too far out there for me.  I know cars don't work like that.  More importantly, it doesn't feature any characters we care about so it's literally just cars smashing in to each other with no purpose.  The sequence picks up a lot when it becomes about Dom and the rest of the crew, but by that point you're kind of tired of action.  The movie's climax is a race across a frozen bay to stop a submarine while being chased by cars firing missiles.  I know I said self-driving cars were straining my suspension of disbelief earlier in this very paragraph, but I loved every ridiculous second of this sequence.  It feels a little like they're trying to top the tank sequence from Fast & Furious 6 by using a bigger more menacing piece of military hardware and it doesn't live up to it, maybe nothing ever could, but it's great in its own right.
Fast Five was a heist movie with all the wonderful twists and turns inherent in the genre, and in the two films since they've abandoned that to make straight-up action movies.  While they haven't gone back to stealing giant safes, they have returned to meaningful third act twists and I'm so thankful for it.  There's so many things we find out were slightly different than the first time we saw them, and it's what these movies need to not just be an endless parade of flashy car tricks.  It needs characters, it needs stakes, and it needs to be just a little bit surprising.
Reading this back, I can see how much I'm grading The Fate of the Furious on a curve.  If this was any other movie with the flaws this one has I would probably be here tearing it apart and begging you not to see it.  I love this franchise, I love these characters, and I can't set that aside.  There are so many little things to appreciate from an eight movie franchise that can't be replicated.  It's nice just to hang out with these characters and exist in their world for another couple hours.  It's fun to pick up on the callbacks and see them pick up threads that were set down years and years ago.  I still find The Fate of the Furious as refreshing as a Corona on a hot LA afternoon— and as long as that's true, I'll carry water for these movies.